KLAUDIUSZ BARAN
& JUSTYNA BARAN
Amazingly energetic duet – both professionally and personally. Their perfect artistic unisono felt in interpretations of the works by Arvo Pärt, Bela Bartok and Astor Piazzolla emanates freshness and extremely powerful expression. The duet has been actively performing locally and internationally, participated in prestigious concerts and festivals, captivating and inviting audiences into their unique musical world, created with the power of great emotions and brilliant sounds of superb quality. The impact of such expressive personalities – inseparable soloists has brought them international popularity.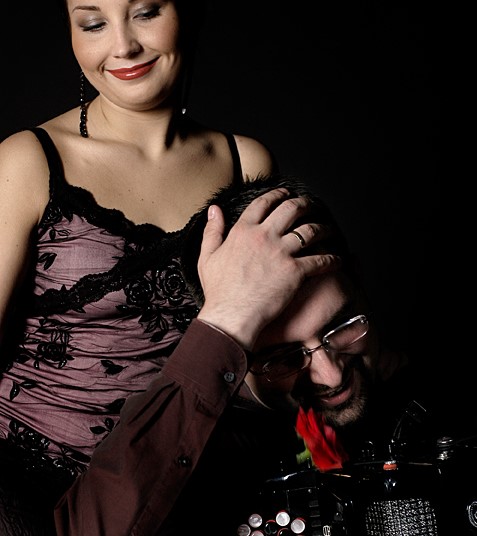 KLAUDIUSZ BARAN
& MICHAŁ NAGY
Two remarkable maestros/artistic friends have been present on Polish and international stages for almost twenty years. In 2003, they received the Polish Music Award Fryderyk for the album Piazzolla Tango. Into their interpretations they unceasingly bring delicate sounds of the guitar, combined with a powerful and characteristic sound of the bandoneon, the charming classical mix of instruments so cherished by the Argentinian King of Tango.
The duet has a way of inviting listeners for a musical journey through mature interpretations, always with a unique sense of respect for the audiences, hence they are often referred to as the Gentlemen of Music. In addition to Astora Piazzolla's, among their invaluable interpretations we can find works of Tomas Gubitsch, Diego Pujola and Coco Nelegatti.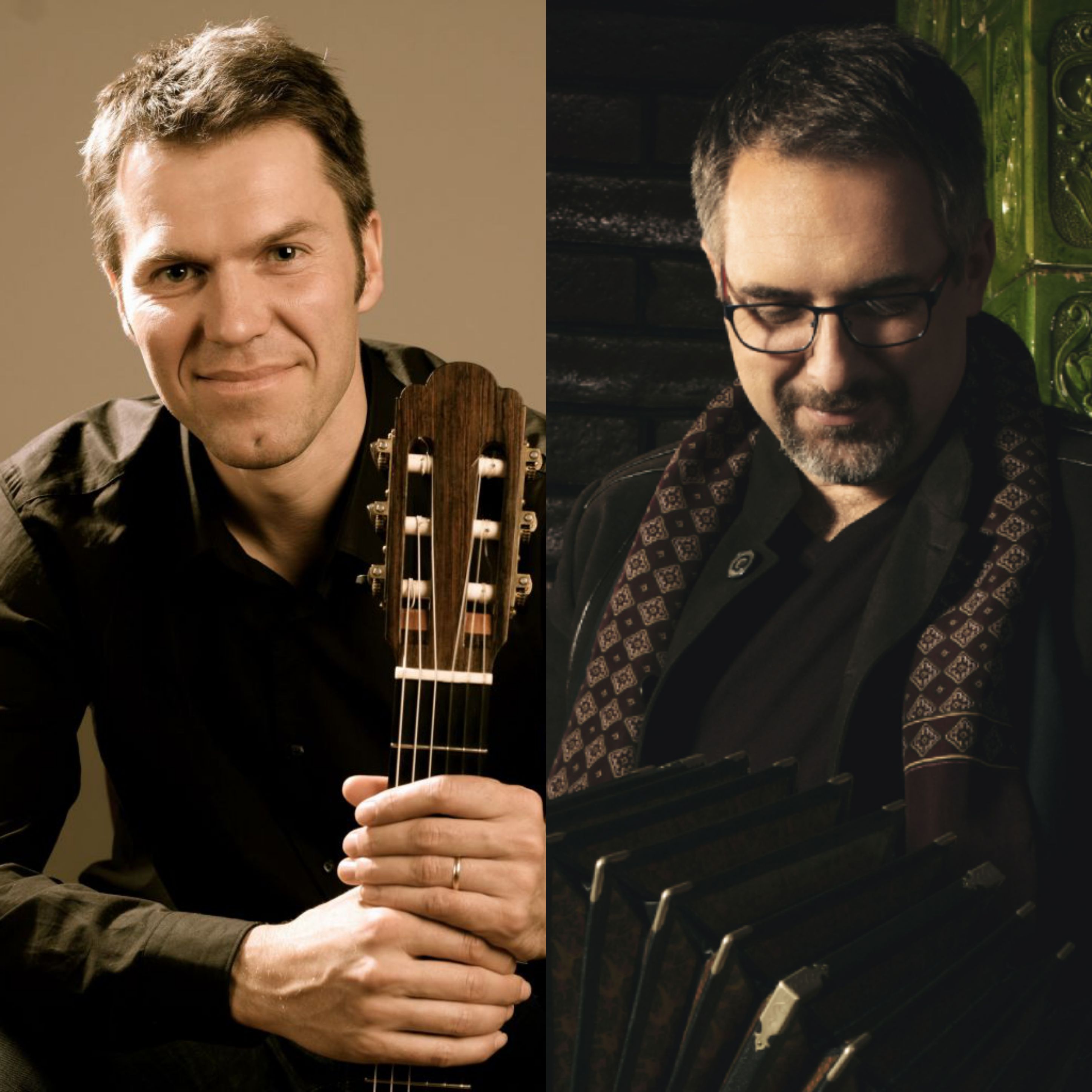 ACCORDION TRIO:
KLAUDIUSZ BARAN &
RAFAŁ GRZĄKA & GRZEGORZ PALUS
Charismatic accordion trio of extraordinary artistic personas affiliated with the Fryderyk Chopin University of Music, Warsaw, Poland. The artists know very well how to pick real gems from a vast collection of music pieces from baroque to contemporary. Their interpretations feature a wide sonoristic range of the accordion, while their sound amazes the audience whenever those three men, three elements meet. Coherence, energy and emotions enhanced with precision bring to life unique interpretations of the works of Jan Sebastian Bach, Wojciech Kilar, Krzysztof Penderecki or Astor Piazzolla. The genuine fusion of musical personalities on stage, their ability to guide listeners through the intricacies of musical suspense, enriched with their spectacular performance technique have made them extremely popular with the audiences and always spontaneously received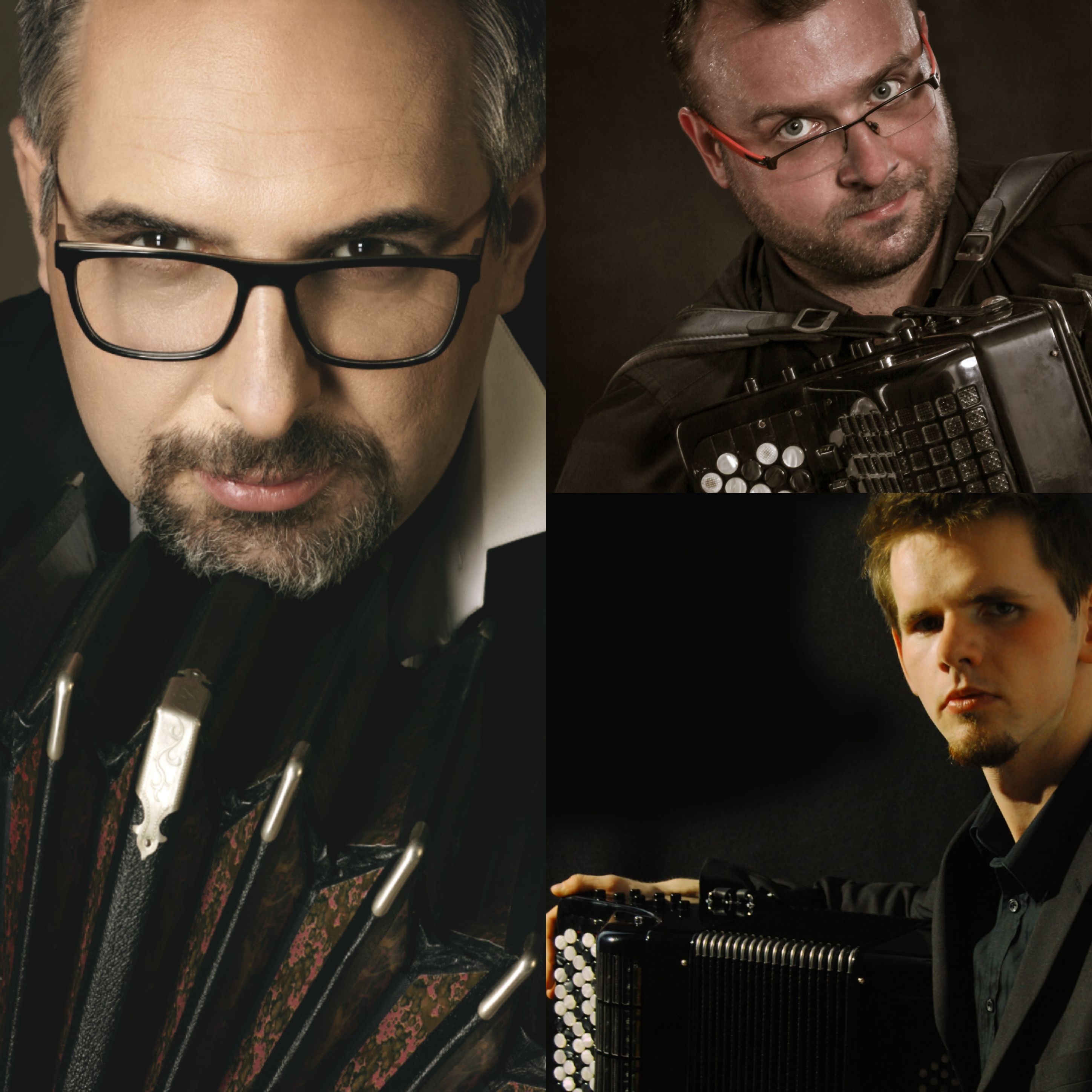 KLAUDIUSZ BARAN & CON AFFETTO
Alluring fusion of the male-sounding bandoneon and female-powered string quartet.
The most beautiful tangos of Astor Piazzolla performed by maestro Klaudiusz Baran and Con Affetto String Quartet. When meeting the artists we witness a special moment when the music of Piazzolla, a composer known as the King of Tango, truly embraces the listener. Experts say 'to dance the tango is to tell one's life story!', and so do the artists with their interpretations – playing the tangos they certainly do tell life stories. This is a special offer for tango lovers and listeners who want to learn more and fall for the tango. Con Affetto String Quartet artists: Angelina Kierońska – I violin, Karolina Bartczyszyn-Południak – II violin, Karolina Stasiowska – viola, Anna Podkościelna-Cyz – cello. The Quartet's official website: 
www.conaffetto.pl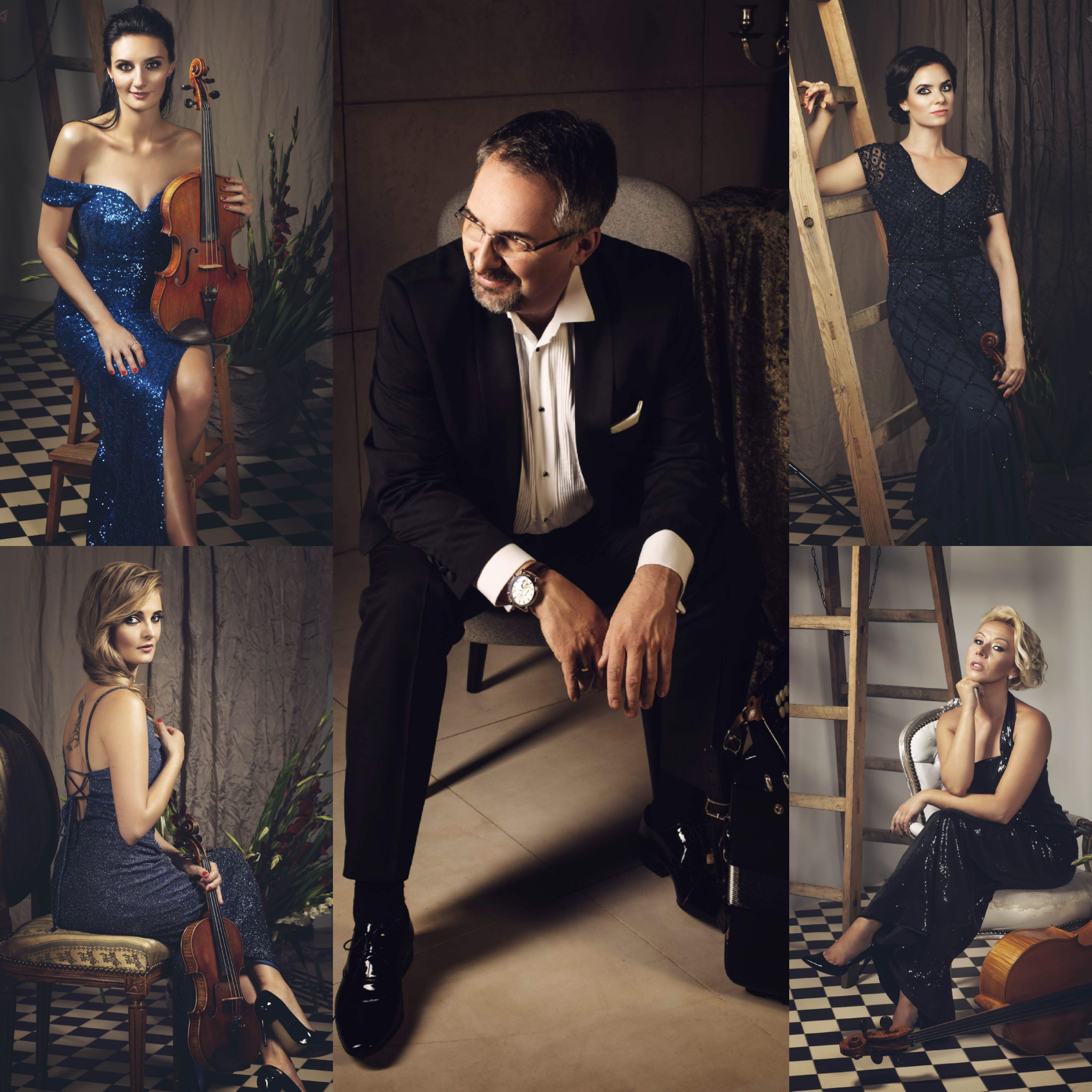 DESORIENT
"DesOrient Group? Words fail me when I try to express admiration for what they do."
MICHAŁ LORENC
The essence of film music – colourful scoring, precision and performance technique inspired by ethno music well rooted in classical sounds. The group's main interest falls within the film music of Michał Lorenc but also the works inspired by Balkan, Jewish, Ukrainian, Arabic and Latino music. The DesOrient musicians use a wide range of original instruments from all over the world, including a collection of flutes – ney, kaval, shepherd's flute, pan flute, shakuhachi, a collection of drums – cajón, bendir, daf, rig, darabuka and numerous string instruments – charango, tar, guitar, santur but also the violin, accordion, double bass or Polish folk cimbalom.
They have performed together creating their own unique music style since 1998. Mamebrs of DesOrient:
Małgorzata Szarlik – violin,
Marta Maślanka – cimbalom, santur,
Klaudiusz Baran – accordion,
Bogdan Kupisiewicz – guitar, 
Mariusz Puchłowski – flutes,
Robert Siwak – percussion instruments,
Michał Woźniak – double bass.
The group's official website: www.desorient.pl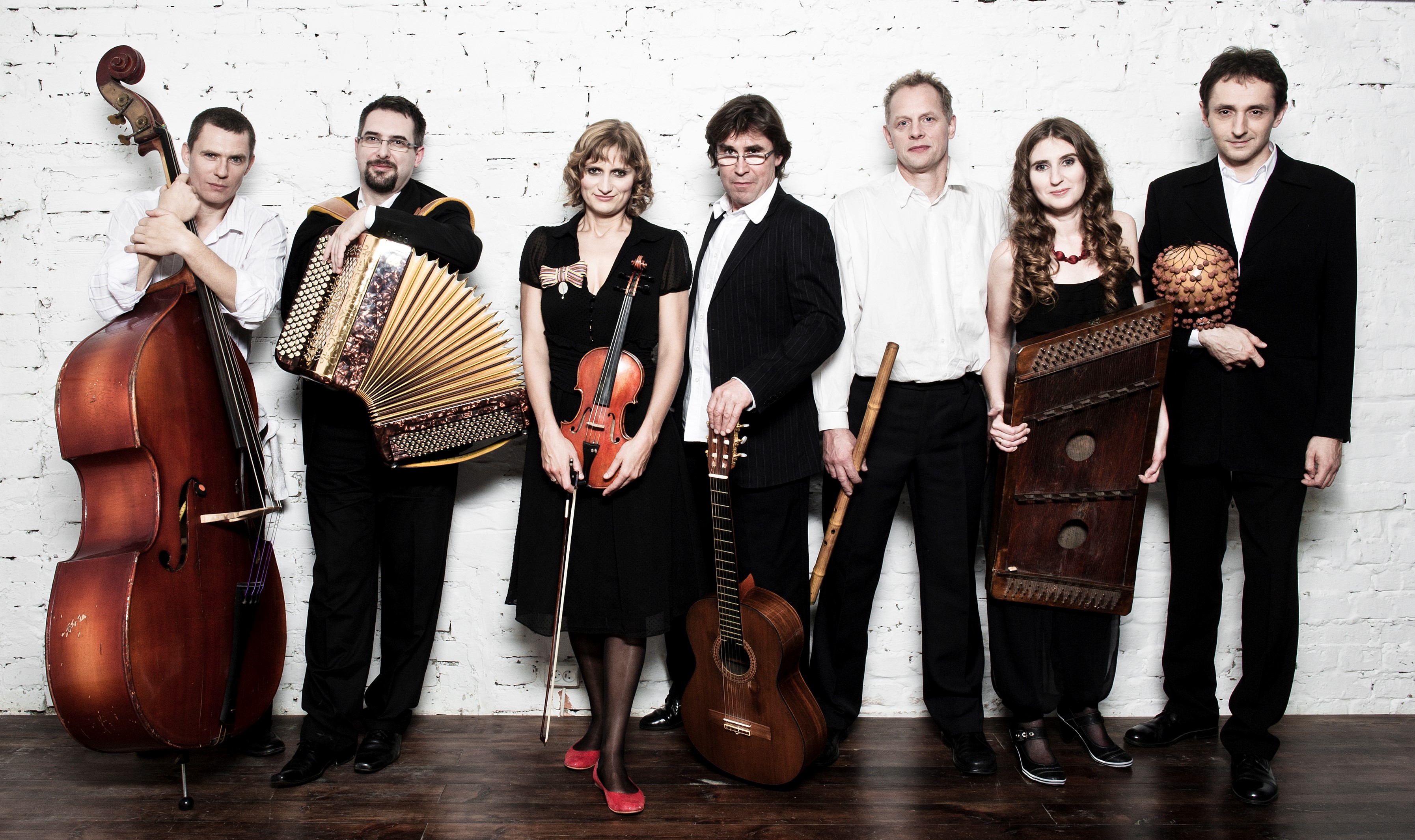 SOLO
Izaak Albeniz – Cordoba op.232 Nr 4
Davide Anzaghi – D'ance
Eduardo Arolas – El Marne
Johann Sebastian Bach – Chorał "Ich ruf zu dir Herr Jesu Christ" BWV 639
Johann Sebastian Bach – Chorał "Jesu bleibet meine Freude" BWV 147
Johann Sebastian Bach – Fuga c – moll BWV 575
Johann Sebastian Bach – Goldberg Variations BWV 988
Johann Sebastian Bach – Preludium i fuga a – moll BWV 543
Johann Sebastian Bach – Preludium i fuga e – moll BWV 533
Johann Sebastian Bach – Preludium i fuga c – moll BWV 549
Johann Sebastian Bach – Preludium i fuga f – moll BWV 881
Johann Sebastian Bach – Preludium i fuga cis – moll BWV 873
Johann Sebastian Bach – Preludium i fuga d – moll BWV 875
Johann Sebastian Bach/Feruccio Busoni – Chaconne d – moll BWV 1004
Zbigniew Bargielski – Gemalte Wolken
Zbigniew Bargielski – Suita Nr.1 "Tatrzańska"
Miłosz Bembinow – Cantus harmonicus
Luciano Berio – Sequenza XIII Chanson
Aleksander Biełoszycki – Tryptyk hiszpański
Leon Böellmann – Toccata
Aleksandra Chmielewska – Ostinato
Wiaczesław Czernikow – Jazz – walc
Eugeniusz Derbienko – Toccata b – moll
Fritz Dobler – Musik 1982
Bogdan Dowlasz – Postscriptum
Cesar Franck – Chorał h – moll
Heiner Frauendorfer – Schattensprünge
Enrique Granados – Taniec orientalny nr 2
Sofia Gubaidulina – De profundis
Sofia Gubaidulina – Sonata "Et expecto …"
Fermin Gurbindo – Fantazja
Vagn Holmboe – Sonata op.143 a
Wolfgang Jacobi – Serenade
Sergiusz Koniajew – Scherzo g – moll
Aleksander Kościów – Ilargia
Andrzej Krzanowski – Preludium
Andrzej Krzanowski – Rapsodia
Andrzej Krzanowski – Relief VII
Andrzej Krzanowski – Sonata
Andrzej Krzanowski – Studium III
Przemysław Książek – Sinfonia barbaria
Anatoli Kusjakow – Sonata Nr. 4
Anatoli Kusjakow – Suita "Szkice zimowe"
Torbjörn Lundquist – Metamorphoses
Wojciech Łukaszewski – Preludium
Petri Makkonen – Disco – toccata
Rodolfo Mederos – Amurado
Anatoli Nagajew – Sonata op.13
Poul Rovsing Olsen – Without a title op.72
Nicolo Paganini/Ferenc Liszt – Etiuda nr 5 "Polowanie"
Astor Piazzolla – Chiquilin de Bachin
Astor Piazzolla – Milonga Preludium "Flora's Game"
Astor Piazzolla – Sentido Unico
Astor Piazzolla – S.V.P.
Astor Piazzolla – Tanguango
Władimir Podgorny – Fantazja rosyjska
Bogdan Precz – Graffeld's impression
Bronisław Kazimierz Przybylski – 24 capriccia
Aleksander Puszkarenko – Scytowie XX wieku
Aleksander Puszkarenko – Sonata
Sergiusz Rachmaninow – Włoska polka
Jean Philippe Rameau – L'Egyptienne
Albin Repnikow – Capriccio
Albin Repnikow – Sonata
Albin Repnikow – Toccata
Władimir Runczak – "Portret Strawińskiego"
Domenico Scarlatti – Sonata fis – moll K. 67
Domenico Scarlatti – Sonata a – moll K.149
Domenico Scarlatti – Sonata – toccata d – moll K. 141
Domenico Scarlatti – Sonata fis – moll K. 25
Domenico Scarlatti – Sonata f – moll K. 555
Domenico Scarlatti – Sonata h – moll K. 377
Domenico Scarlatti – Sonata E – dur K. 162
Domenico Scarlatti – Sonata f – moll K. 386
Domenico Scarlatti – Sonata A – dur K. 24
Domenico Scarlatti – Sonata d – moll K. 9
Domenico Scarlatti – Sonata B – dur K. 202
Domenico Scarlatti – Sonata C – dur K. 159
Domenico Scarlatti – Sonata D – dur K. 430
Ole Schmidt – Toccata nr.2
Edward Sielicki – Polymorphic Fantasy (+tape)
Wiaczesław Siemionow – "Kalina krasnaja"
Wiaczesław Siemionow – Sonata nr.1
Władimir Szenderiow – "Ej uchniem"
Władimir Szenderiow – Walc "Jesienny sen"
Rodion Szczedrin – Basso ostinato
Henryk Wieniawski – Scherzo – Tarantelle g – moll op.16
Władysław Zołotariow – Cztery akwarele
Władysław Zołotariow – Fierapontow monastyr
Władysław Zołotariow – Ispaniada
Władysław Zołotariow – Partita nr.1
Władysław Zołotariow – Sonata Nr.2
Władysław Zołotariow – Sonata Nr.3
Władimir Zubicki – Partita Concertante in modo di jazz
Władimir Zubicki – Sonata nr. 2 "Słowiańska"
Władimir Zubicki – Suita "Karpacka"
MUZYKA KAMERALNA
Anselmo Aieta – Palomita Blanca (bnd + chit)
Cesar Alvim – Sambaroque (acc + vc)
Johann Sebastian Bach – Passacaglia c-moll (3 acc)
Johann Sebastian Bach – Sonata G – dur (acc + vc)
Johann Sebastian Bach – Sonata h – moll (acc + fl)
Zbigniew Bargielski – EGAD (acc + batt)
Zbigniew Bargielski – Gespräch mit dem Schatten (2 acc)
Zbigniew Bargielski – Traumvogel (acc + batt)
Bela Bartok – Tańce rumuńskie (acc + vn)
Wolmer Beltrami – Il treno (2 acc)
Leon Böellmann – Suita gotycka (2 acc)
Bogdan Dowlasz – Palindrom (2 acc)
Antonin Dvořak – Bagatellen (acc + 2 vn + vc)
Pierre Max Dubois – Cinq Piece Characteristique (acc + sax)
Manuel de Falla – Suita pieśni hiszpańskich (acc + vc)(acc + vn)
Graciane Finzi – Impression Tango (acc + vn)
Carlos Gardel – Volver (bnd + chit)
George Gerschwin – Preludium (3 acc)
Egberto Gismonti – Aqua e vino (bnd + chit)
Wiktor Gridin – Wesołe zabawy (2 acc)
Marian Gordiejuk – Dialogi (acc + vc)
Marian Gordiejuk – Dialogi II (acc + vc)
Sofia Gubaidulina – In Croce (acc + vc)
Sofia Gubaidulina – Silenzio (acc + vn + vc)
Tomas Gubitsch – Travesuras (bnd + chit)
Tomas Gubitsch – Villa Luro (bnd + chit)
Sid Hille – Promenades (bnd + chit)
Wojciech Kilar – Orawa (3 acc)
Aleksander Kościów – "His est Caritas" (acc + str. quartett + ob + batt + sop)
Aleksander Kościów – Iffy Shapes (acc + sax + vc)
Aleksander Kościów – Thereisa street (14 acc)
Sebastian Krajewski – Preludium w skali śri (acc + vc + tabla)
Fritz Kreisler – Liebesleid (bnd + chit)
Fritz Kreisler – Liebesfreud (bnd + chit)
Fritz Kreisler – Chiński tamburyn (acc + vn)
Andrzej Krzanowski – Studium IV (2 acc)
Andrzej Krzanowski – Taniec góralski (2 acc)
Andrzej Krzanowski – Toccata (3 acc)
Andrzej Krzanowski – Wiatr echo niesie po polanie (acc + cmb)
Przemysław Książek – Burleska (acc + fl)
Przemysław Książek – Concerto breve (acc + cmb)
Torbjörn Lundquist – Ballade (2 acc)
Torbjörn Lundquist – Bewegungen (acc + str. quartett)
Torbjörn Lundquist – Duell (acc + batt)
Paweł Łukaszewski – The Pearl of Wisdom II (2 acc)
Tomasz Mackiewicz – Dyptyk (2 acc)
Mikołaj Majkusiak – Rhytm of Doubts (acc + vc)
Mikołaj Majkusiak – Sonata (acc + vn)
Darius Milhaud – Brasileira (acc + sax)
Stanisław Moryto – A tre (2 acc + batt)
Piotr Moss – Dedicace V (acc + 2 vn + vl + 3 vc)
Wolfgang Amadeusz Mozart – Adagio i Rondo C – dur K. 617 (acc + str. quartet)
Modest Musorgski – Obrazki z wystawy (2 acc)
Coco Nelegati – Tres Temas (bnd + chit)
John Noble – Koty (acc + cl)
Arne Nordheim – Dinosaurus (acc + chit el. + batt)
Jean Pacalet – Valse (2 acc)
Grażyna Paciorek – Muzyka napotkana (acc + ob)
Oscar Pane – Divagacion y Tango (2 bnd)
Arvo Pärt – Fratres (acc + vn)
Krzysztof Penderecki – Ciaccona in memoriam Giovanni Paolo II (3 acc)
Astor Piazzolla – Adios Nonino (2 acc)(bnd + str. quartet)
Astor Piazzolla – Contrabajissimo (bnd, chit. el., pft., ctb., vn.)
Astor Piazzolla – Concerto para Quintet (bnd, chit. el., pft, ctb., vn.)
Astor Piazzolla – Decarissimo (bnd. + chit.)
Astor Piazzolla – El Tango (bnd, chit el., pft, ctb, vn)
Astor Piazzolla – Escualo (bnd, chit el., pft, ctb, vn)
Astor Piazzolla – Fugata (bnd, chit el., pft, ctb, vn)
Astor Piazzolla – Five Tango Sensations (nd + str. quartett)
Astor Piazzolla – Historia Tanga (bnd + chit.)(acc + sax.)
Astor Piazzolla – Invierno porteño (bnd, chit el., pft, ctb, vn)
Astor Piazzolla – Kicho (acc + vc)
Astor Piazzolla – Le Grand Tango (acc + vc)(acc + vn)(acc + vl)
Astor Piazzolla – Libertango (2 acc)
Astor Piazzolla – Michelangelo '70 (bnd, chit el., pft, ctb, vn)
Astor Piazzolla – Milonga del Angel (bnd, chit el., pft, ctb, vn)
Astor Piazzolla – Milonga in re (acc + vc)
Astor Piazzolla – Muerte del Angel (bnd, chit el., pft, ctb, vn)
Astor Piazzolla – Mumuki (bnd, chit el., pft, ctb, vn)
Astor Piazzolla – Nuestro Tiempo (bnd, chit el., pft, ctb, vn)
Astor Piazzolla – Oblivion (acc + vc) (acc + str. quartett)(acc.+ vn)
Astor Piazzolla – Otoño porteño (bnd, chit el., pft, ctb, vn)
Astor Piazzolla – Primavera porteña (bnd, chit el., pft, ctb, vn)
Astor Piazzolla – Resureccion del Angel (bnd, chit el., pft, ctb, vn)
Astor Piazzolla – Revirado (bnd, chit el., pft, ctb, vn)
Astor Piazzolla – Soledad (bnd, chit el., pft, ctb, vn)
Astor Piazzolla – Tangata (bnd, chit el., pft, ctb, vn)
Astor Piazzolla – Tango Suite (bnd + chit)
Astor Piazzolla – Tanguedia (bnd, chit el., pft, ctb, vn)
Astor Piazzolla – Tanti anni prima (acc + ob)(acc + vc)(acc + vn)
Astor Piazzolla – Verano porteño (bnd, chit el., pft, ctb, vn)
Bogdan Precz – Fusion (acc + fl)
Yves Prin – Tango Fusion (bnd + cmb)
Bronisław Kazimierz Przybylski – Movement I (acc + cl b.)
Bronisław Kazimierz Przybylski – Non Omnis (2 acc + batt)
Bronislaw Kazimierz Przybylski – Triptychon "From the Life" (acc + str. quartett)
Dariusz Przybylski – Chanson d'Apollon (acc + vc + sop)
Daniel Pujol – Suite "Buenos Aires" (bnd + chit)
Marta Ptaszyńska – Se-Ta (2 acc + 2 batt)
Marta Ptaszyńska – The Last Waltz in Vienna (3 acc)
Patrice Sciortino – Sif – sof (acc + cl)
Matyas Seiber – Introduktion und allegro (acc + vc)
Edward Sielicki – Baila (acc + ctb + sax)
Edward Sielicki – Sinfonietta (5 acc. + 2 batt + pft.)
Edward Sielicki – Trio – Sonata (acc + chit + vbf)
Paweł Sydor – Equilibrium (acc + vn + 2 vc)
Dymitr Szostakowicz – Taiti Trot (3 acc)
Józef Świder – Suita (acc + str. quartett)
Vaclav Trojan – Cesarski słowik (acc + chit + vn)
Heikki Valpola – Trzy tańce (acc + vc)
Ignacy Zalewski – Toccata (acc + sax)
Władysław Zołotariow – Rondo capriccioso (3 acc)
KONCERTY Z TOWARZYSZENIEM ORKIESTRY
Luis Bacalov – Misa Tango (bnd + sop + bar) 
Artur Banaszkiewicz – Concerto 21'81 
Zbigniew Bargielski – Trigonalia (acc + chit + batt) 
Antoine Beuger – Fourth music for Marcia Hafif 
Marcin Błażewicz – Concerto 
Marcin Bortnowski – I już nocy nie będzie 
Krzesimir Dębski – Musicophilia 
Sofia Gubaidulina – Fachwerk 
Sofia Gubaidulina – "Sieben Worte …" (acc + vc) 
Aleksander Kościów – Cludioculos
Aleksander Kościów – Koncert na akordeon i orkiestrę
Dymitr Łybin – "Oddech jesieni" 
Mikołaj Majkusiak – Concerto classico 
Mikołaj Majkusiak – Fisconcerto (2 acc) 
Tadeusz Melon – Ansichtskarten aus Cottbus 
Michał Moc – K'acco'phonia 
Bernhard Molique – Koncert g – moll 
Per Nørgård – Recall 
Martin Palmeri – Misa a Buenos Aires (bnd + sop) 
Martin Palmeri – Tango Credo (bnd + sop.) 
Astor Piazzolla – Concerto para bandoneon "Aconcagua" 
Astor Piazzolla – Tres Tangos 
Astor Piazzolla – Double Concerto "Hommage a Liege" (bnd + chit) 
Astor Piazzolla – Adios Nonino 
Astor Piazzolla – Milonga del Angel 
Astor Piazzolla – Libertango 
Astor Piazzolla – Oblivion 
Astor Piazzolla – Operita "Maria de Buenos Aires" 
Astor Piazzolla – Fuga y Misterio 
Bronislaw Kazimierz Przybylski – Concerto Classico 
Bronisław Kazimierz Przybylski – Concerto Polacco 
Dariusz Przybylski – Nawet gwiazdy płaczą z tym kto płacze w nocy (acc + batt) 
Albin Repnikow – Koncert Nr. 3 
Edward Sielicki – L'estro Fisarmonico 
Edward Sielicki – Memorabilia 
Oleksandr Szymko – Livinliv 
Józef Świder – Suita 
Vaclav Trojan – Bajki 
Ignacy Zalewski – Zły (acc + batt) 
Maciej Zieliński – Accello Tanguero (acc + vc)